With so many different models on the electric bike market, you may get lost. Many technical details are important, such as the position of the electric motor or the battery power. Which e-bike is the right one ?  Find out here which bike suits you best.
You can find out here:
What a pedelec bike is and who rides it best
What a cargo e-bike can bring to you
Whether an e-mountain bike meet your needs
Who should switch from pedelec to dual battery ebike
Type 1: With the Pedelec in everyday life
If you belong to this type, you would like to cycle to shop or go to work every day and thus protect the environment. If you don't want to be kicking up the mountain with heavy shopping or arriving in the office sweaty, then get back into the car with a guilty conscience. And choose an alternative: the city pedelec ebike.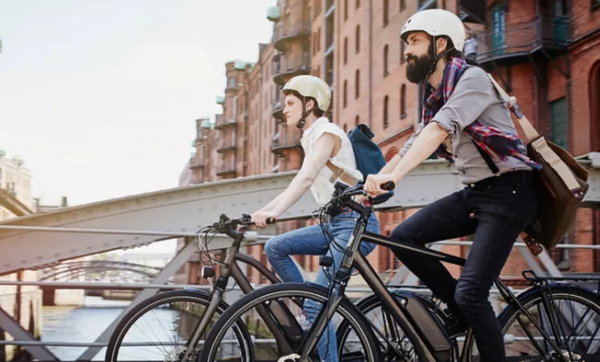 Getting around: The pedelec ebike is also ideal for discovery tours in foreign cities.
 The pedelec ebike is the right choice for the city. The bike supports your pedaling movement up to a maximum of 25 km / h with an engine output of 250 watt hours (Wh) and is legally considered a bicycle. So you can use bike paths and do not need a license. This is the most important difference to all other e-bikes in Germany. Because electric bicycles with their own drive from 6 km / h or higher engine power are considered light motorcycles in Germany. A driving license of class AM or higher, liability insurance, license plate and helmet are mandatory - bike paths are taboo.
The trend for family outings and heavy shopping: the cargo ebike, also called cargo bike. With a Cargobike you can carry purchases, children or dogs with ease - thanks to the electric motor. For the City, choose an engine that sits centrally in the frame (mid-engine). The reason: It is attached directly above the bottom bracket. This ensures a natural driving experience.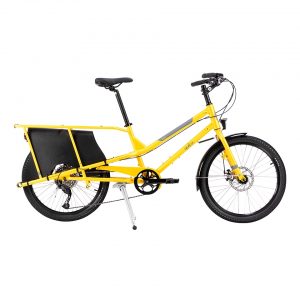 Most pedelecs are charged at a normal socket. How far you get with one battery charge varies individually. Between 30 and 50 kilometers are possible. Speed, driver weight and outside temperature ultimately decide on it. Since the manufacturers cannot predict these factors, the specified range is always a maximum value. He tells you how far you can get under the best conditions. Halve this mileage to estimate how far you can go on average with one battery charge.
Another tip for the city type: If you choose a city pedelec ebike, it is worth considering an automatic gear shift. It automatically selects the right gear without interrupting the pedaling movement - a real relief when constantly starting and braking.
Type 2: higher, faster, further - thanks to e-mountain bikes
Do you like to ride on demanding trails or like sports? Then an electric mountain bike is perfect for you. It supports you on longer routes or on steep inclines.
In order to have long fun off-road, you should take a close look when buying and invest a little more money when in doubt. You can recognize a good electric bike for off-road use by the fact that the motor and electronics are sturdy and well protected. This is especially important when driving over hill and dale, so that you and your bike arrive safely.
A rear engine is enough for moderately demanding tours. If you also want to explore particularly winding routes or steep passages, the mid-engine offers more safety. The pedaling behavior is more natural and you do not have to balance the additional weight of the battery. This means that no terrain can get you out of step so quickly. Another pro for the mid-engine: it is often integrated into the frame. This protects him from damage.
 And always remember: Even off-road, only e-mountain bikes are allowed in the pedelec bike version - that is, with 25 km / h pedaling support.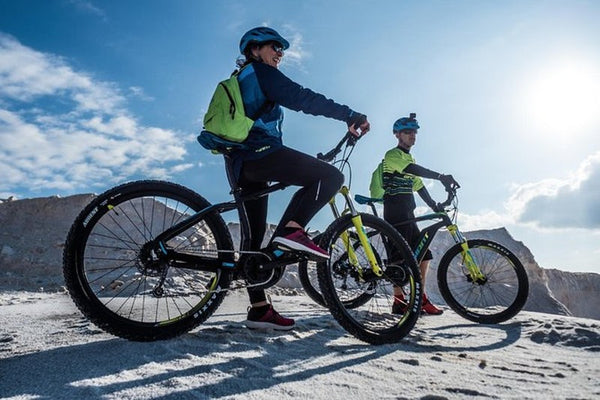 e-bike tour: A second battery in your luggage extends the touring fun.
Type 3: Get going with the double lithium-ion battery e-bike
 This guy likes it sporty. This means that a vacation without an extended bike tour is not a vacation for you. You use the weekends regularly to explore the surrounding area by bike. The further the goal, the more interesting it becomes for you. A double lithium-ion battery e-bike might be right for you.
 When buying, you should pay particular attention to the resilience of the bike. This is particularly important on long tours so that you don't get stuck on the way. The best dual battery ebikes therefore have a particularly stable frame, robust hubs and rims. Even the battery should not run out on long journeys. Bikes with a double lithium-ion battery can reach up to 1000 Wh. That is enough for 180 kilometers of driving fun in one go. The mid-engine is particularly suitable as an engine, since a rear engine would prevent the transport of luggage.
Do you really want to accelerate on the open road? Many e-bikes are also available as speed pedelecs (S-pedelecs) with a maximum motor support of up to 45 km / h. Not very useful in the city or in the mountains, fast cycling is really fun on a suitable ebike tour. If you opt for the fast variant, it makes sense to equip it with hydraulic brakes, as it can withstand the higher weight and faster speeds with ease.
The following applies to all models: thanks to a test drive to your destination
Did you find your bike type? Then there is only one thing left to do on the way to the ideal e-bike: Take a test ride. This gives you a feeling of whether the favorite not only looks good, but also fits you perfectly. If the motor now still has a safety certificate from the manufacturer, there is nothing to be said against getting on your new electric bike and cycling relaxed.
Lastly also the most important tips
No matter which type of ebike that you chose finally, the key components determines the high quality of the ebikes: the motors, the motor controllers (also named as electric speed controller ,ESC) and batteris.  If possible, choose the customed ESC or battery pack for your bike, which is the really key to choose the Mr right ebike for your need.