The controller (also called variator) is the brain of your ebike motorization system. It is an electronic engine management unit. It receives information (control signal) from the pedal sensor or the handle throttle and regulates the engine power according to the received signals.
Our ESC is based on VESC, (if you don't know what a VESC is, please read this blog). All have as standard, the possibility of connecting a throttle . The first launched product is a dual motor controller, while the ESC used for ebike is only single channel of the dual , they share the same electric spec :
Compatible with original 75V/300A VESC
Input voltage: 14-75 V (Safe for 3S-16S Lipo), can handle voltage spike up to 80V.
FDBL0150N80 MOSFET X 12, 80V, RDS(on)1.5mΩ
IRS2186 gate driver
Copper rods for electrical and heat conduction
Here is our customed VESC feature
Integrated 2.4G receiver & Bluetooth module.
Electronic onboard can bus switch.
Dedicated output socket for horn and LED lights! Use can control horn and light on our Remote.(This is fit for electric skateboard )
12V 3A output for user applications
Data interface for our BMS board(will be soon), Support reading battery data in our Remote(This is fit for electric skateboard).
Integrated anti-spark switch function. Configurable setting power off time in our remote(This is also fit for electric skateboard)
And it has all other VESC features
TI INA240A1 Current-Sense Amplifier
USB, CAN, serial, I2C, SPI, 2x ADC, RC PPM inputs / outputs.
Sensored and sensorless FOC with auto-detection of all motor parameters
Hall sensor, ABI/SPI encoder
Current and voltage measurement on all phases
Regenerative braking
Adjustable protection against
USB programmable and nice GUI
Low/High input voltage
High input current
High motor current
High regenerative braking current(separate limits for the motor and the input)
Rapid current changes(ramping)
High RPM(seperate limits for each direction)
Motor and driver overheating.
...And much more
The most advantages comparing with normal ebike ESC is our controllers for electric bikes can operate under different voltages. This means that you can supply them with a voltage of 24V, 36V, 48V and even 70V for certain models.And you can set your targeted current for your bike , set from 20A-80A as your preference.
WHAT DOES THE CONTROLLER'S INTENSITY MEAN?
The intensity of the controller (20A-80A etc.) is an important spec of your electric bicycle kit. Indeed, on a DC motor, the torque of the motor is proportional to the intensity. This means that for a given installation (same engine and same battery) the available torque will be 25% higher with a 25A controller than with a 20A controller.
Note, however, that power consumption is also directly proportional to the intensity of the controller. This means that at full load (accelerator turned fully down a slope of 20% for example) consumption will be 25% higher with a 25A controller than with a 20A controller.
WHY CHOOSE A VESC based ESC THAN ANOTHER ESC?
The ESC is based on VESC. VESC is a strong programmable ESC.
Unlike many commercial sites offering controllers fully developed in China and having only one watchword to reduce the cost price, at VESC the development of the controller is done internally to best respond to the DIY market and offer you maximum freedom to set your own parameters.
You can change different hub motors, no need to change all other electric systems, since the VESC can be compatible with different types of motors, and it support auto-detect the motors to best match with the VESC.
For the same theory, a VESC operate under a wide range of voltages: from 24V to 60V(its max spec is 80V). This means that if you have a 36V battery and want to switch to 60V, you only need to change the battery and not the whole system, the motors also accept a wide voltage range.
 The VESC can be customed with all feature that a normal ebike ESC provided in market, including sensored and sensorless motor, reverse, braking, horn alarm , lights, telemetry data display ect.
 The use of quality components allows us to reduce the size of the controllers, which explains why our VESC controllers have the following dimensions: 57x82x25mm while for equivalent power, it is not uncommon to see practically double dimensions.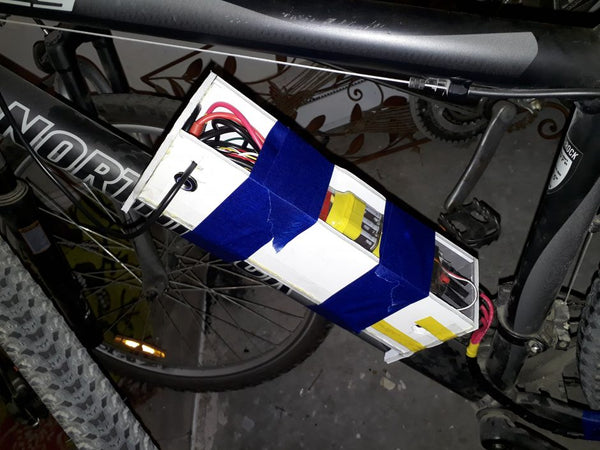 "Thanks to the use of high-end electronic components and quality cabling, your controllers are more reliable, more scalable and more discreet" - test by Myles Drake from UK, he only tested our prototype sample
WHAT DIFFERENCES BETWEEN A SENSORLESS CONTROLLER AND A SENSORED CONTROLLER?
A sensored controller uses the motor Hall sensors to control the motor while the sensorless controller does not use them.
THE ADVANTAGES OF THE SENSORED CONTROLLER: 
- Allows starting without pedaling without loss of efficiency at speeds below 5 km / h. - Less noisy for speeds below 5Km / h.
DISADVANTAGES OF THE SENSORED CONTROLLER:
- Obligation to use the engine Hall sensors. This results in the presence of five wires and three additional sensors in the installation. The sources of breakdowns are thus increased: It is enough that only one wire of signal supply or signal of the sensors is cut so that your motorization does not function any more. Cutting a sensor wire is very rare in road use but can occur during a fall on an ATV for example (unless your installation is well protected). This failure is easy to detect. Damage to an engine Hall sensor is a relatively rare and repairable failure in the workshop.
- Does not work with all engines: some engines do not have sensors.
- If water gets into the engine, there is a good chance that one or more Hall sensors are short-circuited and your engine will therefore fail.
THE ADVANTAGES OF THE SENSORLESS CONTROLLER:
- Elimination of faults related to Hall sensors.
- Works with almost all brushless motors on the market.
DISADVANTAGES OF THE SENSORLESS CONTROLLER:
- Some sensorless controllers poorly manage starting, which forces the cyclist to pedal to start the engine. This problem has been eliminated on VESC
- Noisier than a sensored for speeds below 5Km / h
If the engine allows it, we recommend the use of a vesc controller to avoid further breakdowns. 
And if you want more features to full fit the ebike. Just comment in below. We'll continue to do more customizable vesc in ebike application.